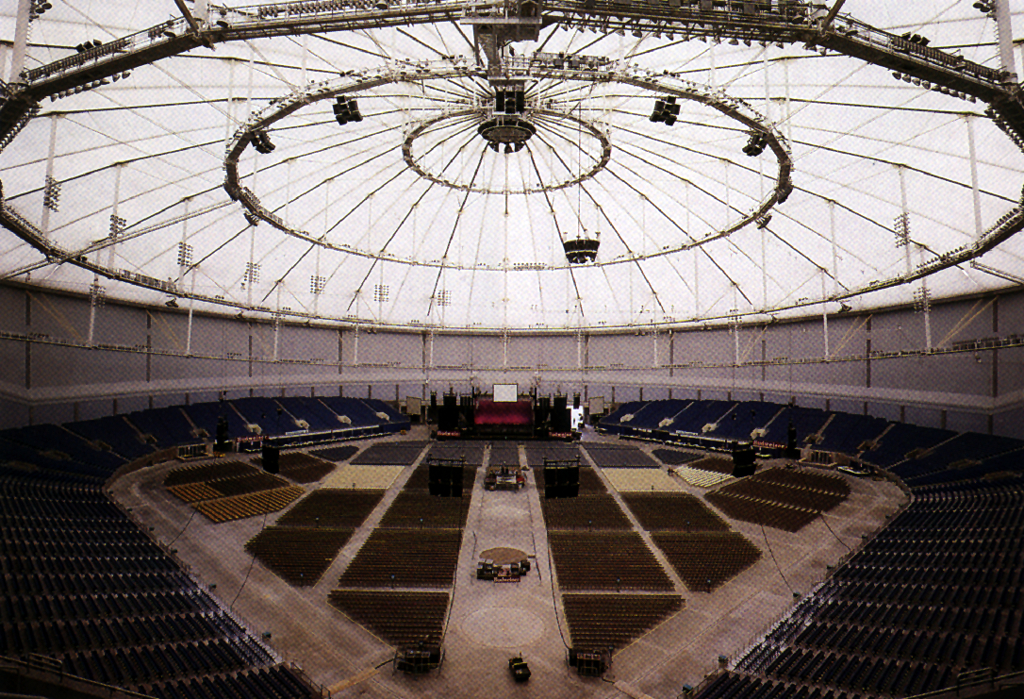 The ABC (A Baseball Community) Committee has come out that the Rays
need a retractable roof
because "we need to have a fully air-conditioned interior". Wow, sounds a lot like what we have right now. Earlier in the week
this column
ran an touched on a lot of the reasons why I've been saying a new stadium is a bad idea, namely 1) The renovation bill is almost as much as a total rebuild, 2) Selling the land now to a developer would be bad business (low market value) 3) The community is still paying off the
Trop
.
I have a book called "Baseball in Cincinnati: From wooden fences to
astroturf
". It is a collection of articles published over several decades. The book was released in 1988. The article that gets into the period of time when Riverfront Stadium was conceived was particularly fascinating. Bob
Howsam
was the Reds GM at the time. I can post the actual quotes later when I get home, but the quotes were in stark contrast to the feelings people have now about stadiums.



Howsam

pushed hard for

astroturf

because he felt it was more pleasing to the eye, and he wanted to ensure that the facility was a nice place to look at. He also said that baseball would be played the way it was meant to be played if they installed

astroturf

. His words, not mine.


The elected officials in Cincinnati really wanted a multi purpose facility on the water front. Reds ownership did not want a new stadium, and preferred to stay in

Crosley

Field. Bill

DeWitt

owned the team at the time, and the Mayor of Cincinnati Eugene

Ruehlmann

pleaded with him to sell the team if he wouldn't cooperate with the city.

Ruehlmann

also wanted the Reds to sign a 40 year lease, something

DeWitt

did not want (this would have put the Reds in Riverfront stadium until the year 2010.
So in 1966 we have a case where an owner doesn't want a new stadium, and city officials are waiting in line to spend public dollars on a facility that would be torn down 33 years later because it was considered outdated. Thirty years ago teams were moving into larger facilities which provided more tickets to sell, which meant more revenue. Now teams are moving into smaller facilities, with the hope that this will increase demand...and price. Some teams put tarps on their extra seats to achieve this goal. This of course hurts people who want to spend $10-$15 on a ticket at most. If you use Bob Howsam's criteria for a stadium, Tropicana Field fits the bill. But as we know Sternberg says it isn't a sufficient facility. I could accept this argument if the Rays were playing at a stadium without club suites, or premium box seating (Wrigley Field), but Tropicana Field has both of these things. The entire second level is lined with suites, and the first rows just behind home plate are priced at a premium. Premium seating is the only variable in a new facility that would affect the bottom line. So my question is: How much more premium seating would a new facility have? The Marlins just decided to lower the number of premium seats from 60 down to 49. I don't know the exact numbers on Tropicana Field but they appear to have a decent inventory of suites at the stadium.
So if a new stadium will have a roof that is constantly closed, and the increase in luxury boxes doesn't result in a material increase in revenues, are we spending hundreds of millions of dollars on a new building so that we can watch baseball on grass?