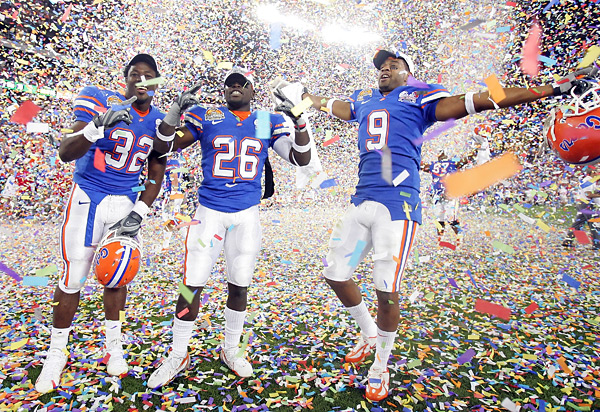 The amount of praise being heaped on the Gators this summer is something that I don't recall seeing.


In the Atlanta-Journal Constitution Tony

Barnhart

is saying that if the loftiest goals are attained this year that Tim

Tebow

should be considered the greatest college player ever.


Mike

Bianchi

of the Orlando Sentinel is calling Urban Meyer the second coming of Bear Bryant


In what is supposed to be considered an anonymous ballot, the southern media felt the need to smoke out the person who didn't vote Tim

Tebow

first team All SEC, and it was The Head Ball Coach.
The best team I've seen was the mid 90s Nebraska
Cornhuskers
. I don't ever recall these types of superlatives being laced into the discussions about the Huskers. Same thing too with the 2001 Miami Hurricanes. Can anyone come up with a suggestion?
FYI - I think it is premature to be comparing Urban Meyer to Bear Bryant. He's been at Florida for 4 football seasons only. If the Gators fail to win any sort of title this year, and
Tebow
fails to win any sort of individual award, despite what they say I think people will view him in a less glorified light than if they manage to meet all the lofty expectations.